RESIDENTIAL AND COMMERCIAL

What if a car hits your home or office?
Auto Impact is an uncommon problem, but a severe one.  The damage left by an automobile may cause parts of a building to collapse.
If your house is next to a road then it may be more likely for you to experience an auto impact, and if you are impacted, it may be more severe.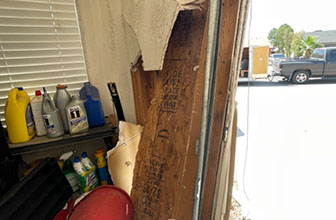 A cascade of problems with auto impacts.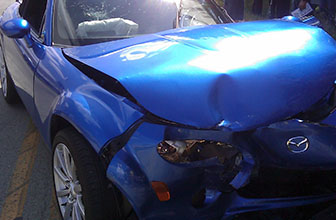 When a car hits your house it's likely that even after the vehicle has done it's damage, more of the structure could become destabilized and collapse. That's why it's so important to call a restoration company quickly.  A restoration company's first priority is to make sure structural integrity is restored, and parts of the building that are at risk are repaired or removed before further harm is done.
Steps
You
Can Take When An Auto Impact Occurs
When a car crashes into your Building it's structural integrity becomes compromised. You'll want to get out of the damaged area as soon as possible.
No-hassle, No-Obligation Estimates
If you've suffered a loss due to auto impact damage at your home or office, don't wait on your restoration project, especially if there is significant structural damage.
Pristine Restoration has years of experience dealing with auto impact damage in Arizona.  Our professional and certified assessors will come out right away to check the damage, help mitigate further damage, document any issues, and work closely with your insurance provider to get your home or office back to its original condition.
Simply fill out the simple form below, and one of our professional assessors will get back with you quickly.  If you'd like to contact us immediately, please call us at the number below, and we'll be able to help you right away!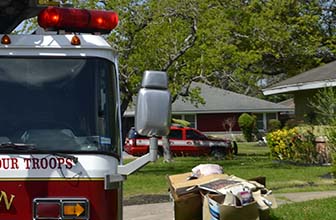 Need Help NOW? Call us directly!
We're equipped to handle any situation caused by a motor vehicle accident.
Why Choose Pristine Restoration?
Thermal Pros is certified and well trusted in handling auto collisions on properties, no matter the degree of damage.
If you have had a car hit your house then it is essential that you contact a reputable restoration company.  reputability is important; you wouldn't want the repaired area to collapse due to poor workmanship
Pristine Restoration is a first rate company, and they providing me with honest, caring service. They explained all procedures in detail, and went above and beyond in answering any questions I had.
Pristine Restoration performed the repairs very professionally with continuous communication. They worked with us to ensure our business did not suffer and we were able to continue production throughout the process. They performed the work in phases to best meet our needs and finished the project in a very timely manner.
Incredibly awesome job to all involved in this project. Thank you everyone!
I was more than satisfied with Pristine Restoration's service. I was thrilled with all the work that was done, and would recommend Pristine Restoration to anyone who needed their help.
Our Certified Professionals Inspire Confidence!