RESIDENTIAL AND COMMERCIAL

Fill out the form below, and a professional estimator will contact you right away, for a no-hassle, no-obligation estimate.
Fire Damage Restoration Done Right
Fire damage is common in Arizona due to the extremely dry desert climate.  Electrical malfunctions, space heaters, and stoves/ovens are the most common causes of fires.
Fires that get out of hand and aren't stopped early can destroy entire rooms if not the whole building.  It takes an experienced restoration company with manpower and resources to restore the building to it's former condition after a fire.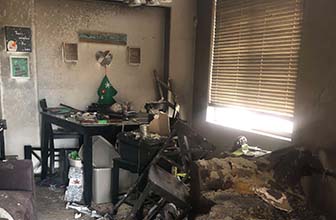 The Complexity of Fire Damage Repair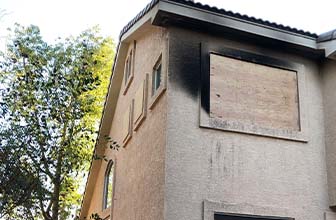 Even with minor fires there's a possibility that parts of the building's structure will be compromised.  This means that it may be necessary to replace some of the weakened structure.
Another concern is smoke and soot.  These can soil the walls, floor, and ceiling, and reduce the air quality dramatically.  Ventilation units will be required to thoroughly clean the air, and an HVAC technician will need to do a thorough cleansing of the entire HVAC system.
Steps
You
Can Take When Fire Damage Occurs
When it comes to  fire, safety is ALWAYS the top priority.  Make sure your own family, employees, and neighbors are safe FIRST.  Once everyone is safe, you can explore possibilities to minimize damage to your structure.  If you follow the steps below immediately after a fire at your home or business, you'll be on the right track to getting your life, home, or business restored to working order as quickly as possible.
No-Hassle, No-Obligation Estimates
If you've suffered a loss due to fire damage at your home or office, don't wait on your restoration project, especially if there is significant structural damage.
Pristine Restoration has years of experience dealing with fire damage in Arizona.  Our professional and certified assessors will come out right away to check the damage, help mitigate further damage, document any issues, and work closely with your insurance provider to get your home or office back to its original condition.
Simply fill out the simple form below, and one of our professional assessors will get back with you quickly.  If you'd like to contact us immediately, please call us at the number below, and we'll be able to help you right away!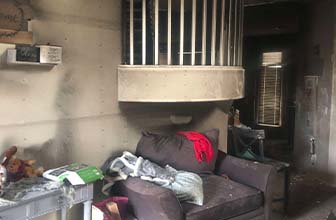 Need Help NOW? Call us directly!
We're prepared to handle and type of water damage, on any scale, and at any time we're needed.
Why Choose Pristine Restoration?
Fire damage can be extremely devastating.  If you're at a loss for what to do, give us a call right away, and we'll work with your insurance provider to give you the best options available.
Pristine Restoration is equipped with the tools and manpower to handle anything from kitchen fires to building-wide fire damage.  Give us a call!  Our emergency line is open 24/7
Pristine Restoration is a first rate company, and they providing me with honest, caring service. They explained all procedures in detail, and went above and beyond in answering any questions I had.
Pristine Restoration performed the repairs very professionally with continuous communication. They worked with us to ensure our business did not suffer and we were able to continue production throughout the process. They performed the work in phases to best meet our needs and finished the project in a very timely manner.
Incredibly awesome job to all involved in this project. Thank you everyone!
I was more than satisfied with Pristine Restoration's service. I was thrilled with all the work that was done, and would recommend Pristine Restoration to anyone who needed their help.
Our Certified Professionals Inspire Confidence!