RESIDENTIAL AND COMMERCIAL

Fill out the form below, and a professional estimator will contact you right away, for a no-hassle, no-obligation estimate.
Water Damage Restoration Done Right
Water damages are very common in Arizona because of powerful monsoon storms, but there are a variety of other reasons water damage can occur.
Pump failures, sewage backups, leaking or burst pipes, overflowing sinks, showers, and washing machines are all frequent causes of extensive water damage.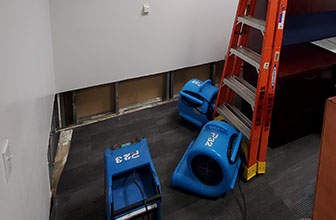 The Danger of Delaying Repairs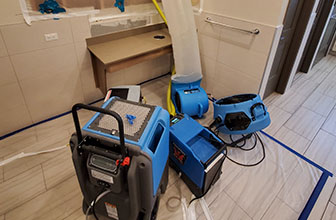 The biggest danger with lingering standing water is mold growth.  If mold is not stopped, in can wreak havoc on your property and pose a serious danger to your health.  Mold remediation can also be expensive and difficult to tackle, so taking care of water damage in a timely fashion is crucial.
If you've had water damage occur on your property, you need to contact a Pristine Restoration as soon as possible.
IMMEDIATE STEPS
YOU
CAN TAKE WITH A WATER LEAK
There are several things you can do to prevent further damage and mold growth when you have a water leak. 
NOTE  that you should stay clear of "dirty water"  (grey / brown water) that has come from anywhere that isn't a water pipe, sink, bathtub, or shower.  Water from toilets, sewage, storm flooding, and groundwater can pose serious health hazards and should be left to professionals, and the property should be evacuated.  
No-Hassle, No-Obligation Estimates
If you've suffered a loss due to water damage at your home or office, don't wait on your restoration project, especially if there is significant structural damage.  This is especially true if there is the potential for mold growth.
Pristine Restoration has years of experience dealing with water damage in Arizona.  Our professional and certified assessors will come out right away to check the damage, help mitigate further damage, document any issues, and work closely with your insurance provider to get your home or office back to its original condition.
Simply fill out the simple form below, and one of our professional assessors will get back with you quickly.  If you'd like to contact us immediately, please call us at the number below, and we'll be able to help you right away!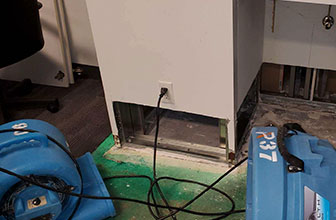 Need Help NOW? Call us directly!
We're prepared to handle and type of water damage, on any scale, and at any time we're needed.
Why Choose Pristine Restoration?
Every year in Arizona thousands of homes need water damage cleanup due to monsoon storms, runoff, leaking pipes, overflowing dishwashers, sinks, showers, and more.
If you have experienced water damage, get in contact with reputable water damage restoration contractors as soon as possible.  Lingering second hand water damage and mold can do serious harm to your health and property the longer it's allowed to remain.
Pristine Restoration is a first rate company, and they providing me with honest, caring service. They explained all procedures in detail, and went above and beyond in answering any questions I had.
Pristine Restoration performed the repairs very professionally with continuous communication. They worked with us to ensure our business did not suffer and we were able to continue production throughout the process. They performed the work in phases to best meet our needs and finished the project in a very timely manner.
Incredibly awesome job to all involved in this project. Thank you everyone!
I was more than satisfied with Pristine Restoration's service. I was thrilled with all the work that was done, and would recommend Pristine Restoration to anyone who needed their help.
Our Certified Professionals Inspire Confidence!